For homes with high electricity consumption and businesses with relatively fewer electricity needs, a 10 kW solar rooftop system will be a great investment. In this article let's take a look at pricing, energy production and returns of 10 kW solar rooftop systems in India.
WHAT IS THE AREA REQUIRED AND THE NUMBER OF PANELS NEEDED FOR A 10 kW SOLAR SYSTEM?
A 10 kW solar rooftop system will typically require a shadow-free area of 80-100m2 and will consist of 35-45 panels depending on the wattage of solar panels.
10 kW SOLAR PV SYSTEM PRICE RANGES
Over the past years, India is home to some of the lowest solar installation prices in the world and especially 10 kW solar system, because of their size, which often offers the best value of any solar PV system size. The average cost of a fully installed 10 kW solar system in India is around Rs. 50 per watt or about 5 lakhs for the whole system. For anyone looking to install a 10 kW solar system, this price can be a reference point. Some installers may offer a lower price, while others may offer a higher price. The thing to look for is the comparative value of the system – a balance between the quality of products and price.
The chart below shows the variation of benchmark costs for a 10 kW solar system announced by MNRE.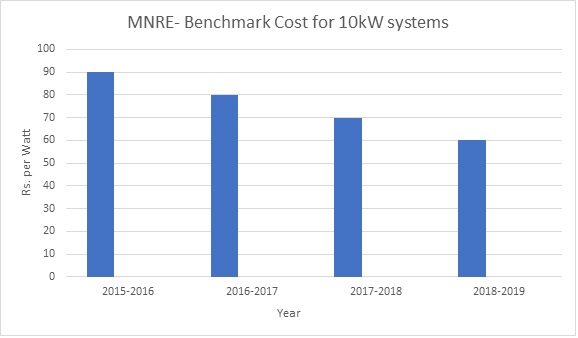 OUTPUT OF A 10 kW SOLAR SYSTEM
The output of a solar system depends on various factors. These include:
· Location and climate
· Orientation and tilt of solar PV modules
· Shading loss
· Operating temperature
· Whether the solar panel array is properly matched to the inverter capacity, or not
· Performance of individual components – Modules and Inverters

The table below shows indicative figures for how many kilowatt-hours (kWh) of energy south-facing 10 kW solar system will generate per day (on average throughout the year) in India's cities.


Source: Data range via PVwatts, assuming 75% efficiency for the south-facing array at optimum tilt angles.

IS A 10 kW SOLAR SYSTEM RIGHT FOR YOU?
10 kW solar systems are on the higher side for residential installations (where 3kW-5kW are more common). So as mentioned above, 10 kW systems tend to be most appropriate for a home with significant amounts of daytime electricity consumption or businesses with less daytime usage. We recommend you to select a system size that would allow you to consume at least 30% of the solar energy generated.

Also, keep in mind that your DISCOM may have a default limit on solar system size. Check with your solar installer or local DISCOM for more details.

10 kW SOLAR SYSTEM: FINANCIAL RETURNS
These days solar feed-in-tariffs are a secondary benefit of having a solar PV system installed. Likewise, you will be benefited the most if you are consuming most of the energy that is generated by the installed solar power plant. The solar feed-in-tariff rates, in general, are lower than the rate of electricity, you will pay for the energy from the grid. Thus, the more solar energy you use, the more you will save. Meanwhile, the excess energy generated is injected to the grid for which you earn credits which will, in turn, reduce your electricity bills.

Now, let us see how a residential consumer in Bangalore saves from 10 kW solar PV system.

ASSUMPTIONS
On average, the monthly consumption of a house is around 3600 units per month. They install a 10 kW solar PV system to reduce their electricity bills. As the consumption is very high, they pay per unit cost at the highest slab which is Rs. 7.65 per unit.


Ready to buy a solar system? Join us on our SafEarth Platform to get the best quality and prices for your system!