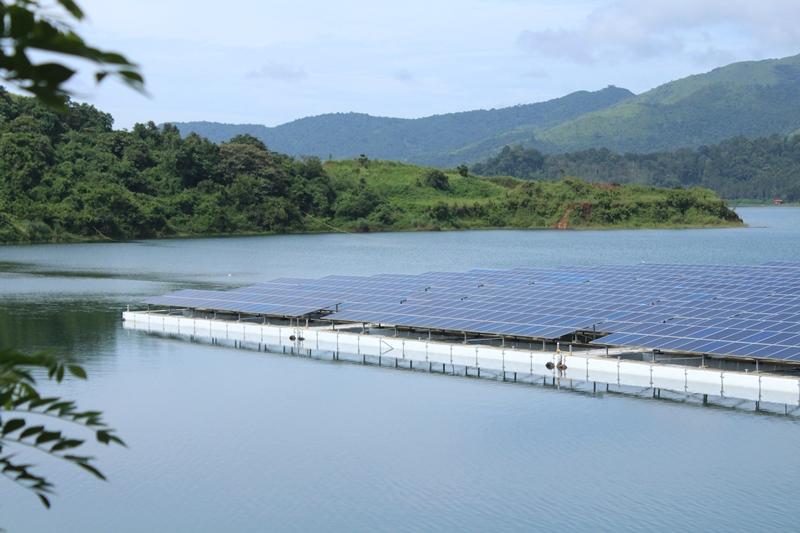 Floating solar in India offers an affordable solution to one of the biggest hurdles in solar power in the country, the availability of land. Complex land transfer regulations and fragmented land ownerships have often led to project delays for developers. Since floating solar projects are set up on water bodies, the hassle of finding land is freed up.
India, having a large number of lakes and ponds, is a perfect contender for floating solar. Estimates suggest that even if only reservoirs of thermal and hydropower plants are used, a floating solar capacity of about 628 GW can be installed. Floating solar projects also involve an easier execution process than ground-mounted solar projects as they do not require complex civil work. The installation of solar modules on reservoirs also has a cooling effect on the water, which lowers its temperature, therefore increasing energy yield and reducing soiling losses. Therefore, in terms of performance, resource utilisation and implementation, floating solar has an edge over ground-mounted solar panels.
The only real problems that floating solar face are whether project costs and tariffs are favourable for the large-scale uptake of floating solar projects. In India, the cost of floating solar projects range from INR 50 million per MW to INR 60 million per MW. This is around 20-25% higher than ground-mounted solar. The main cost factor are the mounting structures of the floating solar plants, which comprise nearly a quarter of the cost of the projects due to the requirement of specialised floats, anchoring, and mooring.
But as technology improves, price trends will see a decrease in the cost of solar modules and floats, leading to an increase in competition and demand resulting in economies of scale. Proving this, in September 2019, a 70 MW tender for a floating solar project on a reservoir on NTPC Limited's Rajiv Gandhi Combined Cycle Power Project at Kayamkulam in Kerala saw project costs being quoted by developers at as low as INR 35 per watt. This tender, won by Tata Power Solar, is the lowest cost achieved across the world so far.
As per the World Bank, the Levelized Cost of Energy (LCOE) is only 3-4% higher than that for a ground-mounted solar power plant. The segment is gradually advancing on the back of an increase in the number of recent tenders. This increasing interest has started attracting development agencies and investors to India. Apart from investors, float solar manufacturers are also setting up base in the country.
These manufacturers will give the domestic manufacturing sector a much-needed boost, which, at present, mostly imports floats from Europe and China. This will help in the further reduction of prices and with an increase in the scale and size of projects, costs will decrease. With a growing number of floating solar technologies on the market, the segment holds great potential in the renewable energy market in the country.
Our online marketplace, SafEarth, has made buying solar as easy as buying a phone online. Our customers can get the best quality system at the best possible price, without going through any hassles. We automate the entire procurement process for you and ensure that you only follow the best practices. In the past, we have reduced customer cost by nearly 10%, time by 40% and improved customer experience many folds. Connect with us today if you are interested in setting up a rooftop solar system.
---
Summarized from the RenewableWatch Magazine.