Current Scenario of Rooftop Solar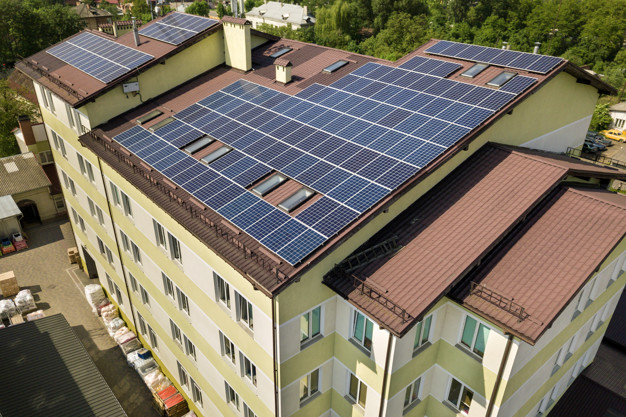 Currently, Delhites are facing one of the highest levels of air pollution in the world. One of the main contributors to this pollution is the burning of coal in neighbouring cities to meet the growing electricity demand. This is where rooftop solar can help transform the city. Solar is a clean and sustainable means of energy production and Delhi has a high potential for rooftop solar power with the amount of sun it gets. However, most of the solar installation in the capital has been focused on utility-sized solar plants and growth in the residential sector is very slow. 
As of December 2019, Delhi has installed around 146 MW of rooftop solar power, but mostly on government and institutional buildings. The Delhi Solar Energy Policy (2006) set targets for solar generation in Delhi of 1 GW by 2020 (4.2% of the energy consumed) and 2 GW by 2025 (6.6% of the energy consumed). The Delhi Solar Policy target for 2019 was supposed to be 606 MW. This means that the Indian capital has fallen short by a large margin even though it has a solar energy potential of 2500 MWp.
This is mainly due to a lack of communication between solar developers and end-users of rooftop solar. There is also a lack of consumer awareness about the program, policies, and benefits of current solar initiatives in the city. All these reasons have led to slow growth in the solar rooftop sector. Other challenges for consumers are the high upfront costs and limited loan availability. If the capital is aiming at meeting its solar targets, then there is an urgent need to design programs and promote the adoption of solar. We need to push the benefits of rooftop solar at the grass-root level and communicate policy, economic and environmental benefits to end-users and electricity consumers.
Potential of Rooftop Solar
The estimated potential for rooftop solar in Delhi is 2.5 GW, of which the government has 26%, commercial and industrial has 25% and residential has 49%. 400 MW of rooftop solar power on Delhi government rooftops can save approximately 200 crores/year. This means that in 20 years, the Delhi government can save 5000 crores. Not only can the electricity expense be saved, but energy security can also be improved with the adoption of rooftop solar. This can, in turn, shave off 10% of peak demand by 2025 reducing the need for new Power Purchase Agreements (PPAs).
Economics of Rooftop Solar
The average economics of installing a rooftop solar plant in Delhi is as follows:
The cost is approximately INR 60,000 for a 1 kW solar system (including panels, inverter, and installation)
The space needed is a rooftop of approximately 10 sq. meters (3m x 3.3m)
The solar system will generate approximately 1,400 kWh (units)/year. This means that households will generate electricity worth INR 11,200 per year (INR 8 per unit) with a payback time of 6-7 years and commercial or industrial buildings will generate electricity worth INR 15,400 per year (INR 11 per unit) with a payback period of approximately 5 years.
---
Ready to buy a solar system? Join us on our SafEarth Platform to get the best quality and prices for your system!